Boat of the Week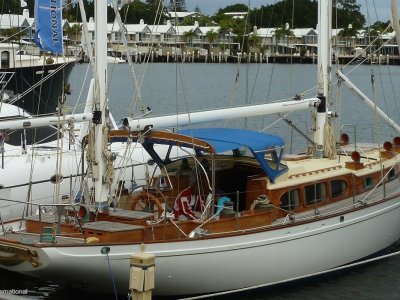 Alden 55 Classic Timber Cruising Yacht
AU $429,000
Alden 55 swing centre board cruising yacht. MASSIVE PRICE REDUCTION FROM $595,000.***TIMBER BOAT LOVERS BUYING OPPORTUNITY***...
Latest Listings
Catalina 309 Owner's two cabin version
AU $115,000
* SOLD AND SETTLED TO A FORTUNATE COUPLE. ANOTHER WANTED FOR BUYERS WHO MISSED THE BOAT!* 2007, shoal draft winged keel, two...
Red Hot Buy
Cantiere Navale Tormene
US $350,000
BARGAIN... BARGAIN... BARGAIN! A Once off opportunity to own a 75 foot swing keel, twin rudder yacht at a never to be repeated...

Ian Mackenzie International Brokerage is the distributor for some of the world's best brands... Amel Yachts, Monachus Cruisers.

Our professional team is committed to making sure you are matched with the perfect boat for YOU, be it from our own Listings or as your Agent, sourcing a boat in collaboration with our global partners.

The Pre-Owned Brokerage division offers you a wide range of vessels for sale, Australia-wide and throughout Asia, USA, Europe and the Pacific Islands. We provide outstanding service and advice based on over 30,000 miles of cruising / racing and twenty-four years in boat sales.

Whether you wish to sell your boat or buy a quality power boat or sailing yacht, we offer you new and used boats, finance packages, arrange transport and delivery, insurance valuations and, if you are bringing a boat in from overseas, talk to us about a customs valuation.

Take action now and contact us.

Fulfilling your dreams begins with this single step….....




Catamaran Company and Ian Mackenzie International Boating
are now open for business and we look forward to helping you fulfill your boating dream in 2017.
Ian Mackenzie - Broker
Valerie Bull - Admin


Unprecented sales has created space in our unique hardstand display area.
We have cash buyers waiting.
Call us now on (07) 5502 3124



MAKING YOUR BOATING DREAMS COME TRUE



Call us on +61 (07) 5502 3124 or contact us by email

click here





Our

waterfront office at


Building A1/a
The Boat Works
1 Boatworks Drive
COOMERA, Qld 4209

WATERFRONT ENTRANCE AT THE END OF BEATTIE ROAD